Post-Covid hair fall: Expert suggests ways to handle the problem.
01/13/2022
As they say, your hair defines your beauty and personality. After all, who doesn't want thick, voluminous hair? But it seems that the post-covid situation has made the entire process a little tricky for each one of us. COVID 19 has triggered many health issues, one of which is hair fall. The majority of the COVID 19 patients who got recovered complained of constant hair fall and changes in their hair texture. But experts got some fantastic ways to handle the problem. Just a disclaimer, the measures suggested are way too easy and hassle-free. Apart from that, you can also opt for hair loss medicines which are readily available online.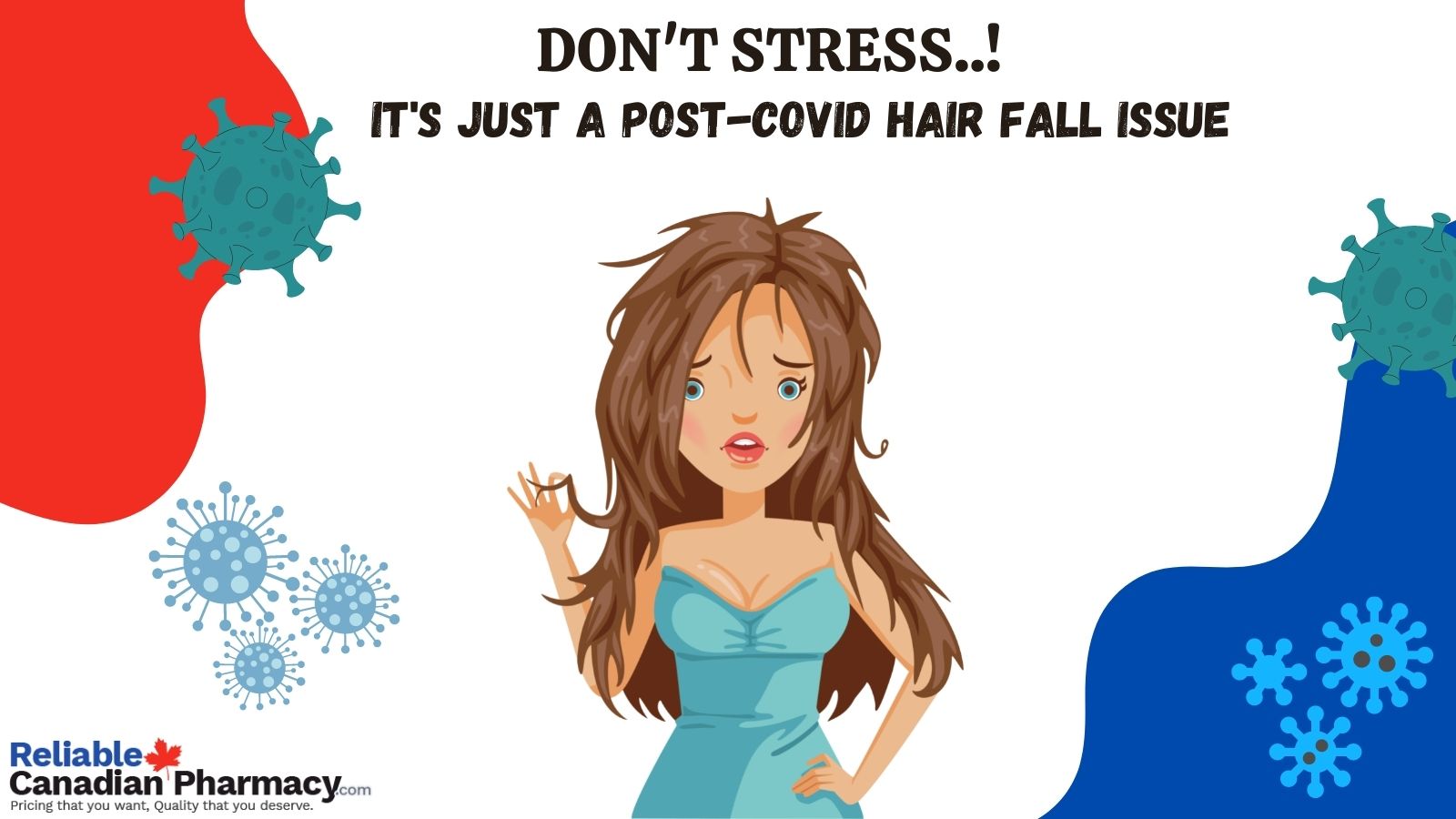 Causes: -
Apart from the pre-covid hair fall situation, several other major factors are responsible for a significant increase in hair fall post-Covid. Below-mentioned are some of the leading causes of hair fall:-  
During or after covid, a person is very weak with his immunity. At this time, the body becomes prone to germs and other diseases. And hence, this directly impacts an individual's overall health, including hair health. 
Improper sleep cycles can also trigger a lot of health issues. It gives one an under-eye dark circle, dull skin texture, and poor health of hair. Hence, a sound sleep of at least 7-9 hours is essential for healthy body functioning.
An improper diet is the "Godfather" of poor health. Your health will keep deteriorating until and unless you don't stop cutting down junk. Inculcate a clean diet for at least five days a week to see some healthy change in your hair health.
Previous therapy/ medications/treatments: -
Various treatments and therapies for cancer or other ailments can cause hair fall. It can also occur as a reaction to the previous or ongoing medication. 
Hormonal imbalances occur when your body goes through various changes at a certain age or due to any disorder. It can easily provoke acne, pimples, and even hair fall. Don't hesitate to contact your doctor when you see such changes.
Hard shampoo or hair masks: -
Excessive use of hard shampoo and masks can make your hair rough and begin hair fall. Hence, it is always suggested to apply mild ones for less or no reaction. 
Hairstyling treatments such as smoothening, straightening, etc., can also deteriorate the hair quality and cause hair fall. Consult your dermatologist if you ever face anything of this sort. 
Measures
An increase in hair fall after coronavirus infection is pretty normal. Don't forget to follow the below-mentioned measures to treat or prevent the problem if you are going through this phase:
Living a stress-free life is a myth. If there is life, there will be stress. But, it is essential to learn the skill of stress management. Involve yourself in stress-management activities such as gardening, painting, spending some time with a pet or loved ones, long drive/walk, etc. These activities will help you live not fully but relatively stress-free life and also develop your overall health. 
A healthy diet is a solution for all. Include fresh fruits and veggies as much as possible. Keep yourself hydrated. It will result in a healthy body in and out.
There are various generic hair loss drugs readily available in the market. You can also buy them online and save a lot of money.
Mild hair care products: -
If you are a newbie, always start by using mild hair care products. Make it a point to check the ingredients of the product, to know whether it will suit you or if you are allergic to any of the ingredients.
It doesn't matter how fancy a brand is. Home remedies will never go off-trend. Apply aloe vera or a thick paste of hibiscus leaves all over your hair and scalp. Leave it for at least 30 minutes and wash it off with a mild shampoo. Both aloe vera and hibiscus leaves have anti-hair fall properties. Repeat the process once or twice a week for better results.  
Conclusion: -
The post covid phase is a bit tough to deal with for everyone. The immune system falls weak, and the body goes through many changes. It might take you some time to get off the situation. If you are in this phase, don't hurry; take it slow and give your body enough rest. Although it might seem challenging to stay positive throughout this process, you will be back to normal pretty soon. Just keep following the procedure, and you will be just fine as before..! 
You can now also buy hair fall drugs from our online pharmacy.
Click here to place the order:- https://bit.ly/3xzwGbb.